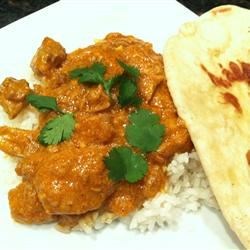 We love Indian food. Dion took me out for our anniversary a couple of years ago to an Indian place and I tried Butter Chicken for the first time. It was so good that I had to try and find the recipe. Unfortunately the authentic recipes call for cooking it in a certain clay pot and had things I couldn't find. So I tried to find an Americanized version that at least came close to it.
This is NOT as good as the authentic but it is as close as I've come so far, and the whole family loves it. Its also less fattening that the original...which is always a good thing, right??
CrockPot Butter Chicken
2 tablespoons butter
2 tablespoons coconut oil
4 large, skinless, boneless chicken breasts, cut into
bite-size pieces
1 large onion, diced
3 cloves of garlic, minced
2 teaspoons curry powder
1 tablespoon curry paste (I buy this in a tub at the Asian
grocery)
2 teaspoons tandoori masala (an Indian spice mix)
1 teaspoon garam masala (an Indian spice mix)
2 (6 oz) tomato paste
7 black cardamom pods ( or 15 green which is what the
original recipe had, but I didn't want to go buy green
when I had black)
1 (14 oz) coconut milk
1 cup Kefir cheese (or yogurt)
Salt to taste
Melt the butter and oil in a large skillet over medium heat. Stir in chicken onion and garlic. Cook and stir until onion is clear, about 10 minutes. Stir in curry powder and curry paste, tandoori masala and garam masala and tomato paste, until no lumps of paste remain.
Pour into slow cooker and stir in cardamom pods, coconut milk, yogurt/cheese and salt to taste. Cook on high 4-6 hours or low 6-8 hours.
Discard cardamom seeds before serving.
You can tie up the cardamom in a piece of cheesecloth for easy disposal after cooking. I just throw them in and warn everyone to watch for them on their plate and keep count when found. Its like a cracker jack surprise! LOL! They are large and easily identifiable.
We eat it over rice and have a side of naan bread and hummus or Tadzhik.
Hope you enjoy this as much as my family does.